The Parking Store, located at 495 Portage Ave, is closed to members of the public until further notice. All services are available online or by contacting 311.
Effective Saturday, March 28, 2020 until June 30, 2021, the following are changes related to parking:
Offering one-hour complimentary parking at all metered locations throughout Winnipeg. Please note, there is no requirement to pay for parking in order to receive the one-hour complimentary parking. This is not to be combined with the existing two-hour complimentary Saturday parking in the Downtown area.
Relaxing enforcement of 1-2 hour time limits on residential streets with the exception of streets around Deer Lodge Centre where there are ongoing parking availability issues; however, residents must obey all other parking restrictions (i.e. obstructing fire hydrants, parking too close to intersections, etc.).
Effective Saturday, March 28, 2020 and throughout the pandemic:
Adding temporary 15-minute loading zones in various locations throughout the Downtown and the Exchange District to benefit local businesses.
Le Magasin de la Direction du stationnement, au 495, avenue Portage, est fermé au public jusqu'à nouvel ordre. Pour accéder à nos services, allez en ligne ou communiquez avec le 311. 
Depuis le samedi 28 mars 2020 et jusqu'au 30 juin 2021, les modifications suivantes s'appliquent au stationnement :
Stationnement gratuit pendant une heure dans toutes les places minutées de Winnipeg. Veuillez noter qu'il n'est pas nécessaire de payer quoi que ce soit pour avoir droit à une heure de stationnement gratuite. Cette offre ne peut être cumulée aux deux heures de stationnement au centre-ville gratuit le samedi.
On a assoupli le contrôle des limites de temps dans les rues résidentielles où le stationnement est limité à 1 ou 2 heures, excepté les rues à proximité du centre Deer Lodge, où il y a un manque constant de places. Toutefois, les résidents doivent respecter toutes les autres restrictions en matière de stationnement (ne pas bloquer les bornes-fontaines, ne pas stationner trop près des intersections, etc.).
Depuis le samedi 28 mars 2020 et pendant la pandémie :
Ajout de zones de chargement temporaires de 15 minutes à plusieurs endroits du centre-ville et du quartier de la Bourse, pour aider les entreprises locales.
Park Smart program
Tip of the month
Winnipeg Parking By-law comes into effect September 1, 2016
The new Winnipeg Parking By-Law comes into effect September 1st. View our Park Smart Brochure for highlights of the changes.
Winnipeg Parking By-Law 86/2016
Past tips of the month
August - Improperly Parked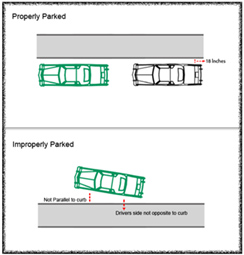 Improperly parked vehicles may pose a safety hazard for cyclists, motorized vehicles and also reduce pedestrian sightlines. As well they impede traffic flow and make it difficult for public transportation to operate safely and efficiently.
Under the bylaw:
Vehicles operators have to park in a manner consistent with the flow of traffic. That usually means parallel or at an angle to the curb, as indicated by signage and control devices. A vehicle cannot be parked "left side" or driver′s side against the curb unless you are on a one–way street – the only time parking is allowed against the left curb. Vehicles are not to be further than 450 mm (approximately 18 inches) from the curb.
Covered under: Winnipeg Parking By–Law No. 86/2016 Section 17
Visit our Parking Violation page for more information relating to parking infractions.
April - Virtual Permits
These Virtual Permits are registered under the customers licence plate and are seen on the officer's handhelds when they look up the plate.
If you are a current permit holder, you will have already been issued a new Virtual Permit by now. Please destroy your invalid hang-tag(s)!
Remember to keep your licence plate number up to date so that you do not receive a parking ticket.
Please visit our FAQs for further information regarding Virtual Permits.
March - Using "Pay By Phone"
Pay for your on-street parking without having to leave your vehicle or remembering to bring change.
Get a text reminder when your time is almost up!
Download the app now from the Blackberry, Google Play and iOS App Store by searching "Pay By Phone".
Benefits of using Pay By Phone:
All you need is your mobile phone
Be automatically reminded when your time is almost up
Extend your parking time from your phone if you have not purchased the maximum purchase time
View and print parking transactions online
More information can be found at Paybyphone.com
February - Leaving an unattended electrical wire, cord or cable on or across City street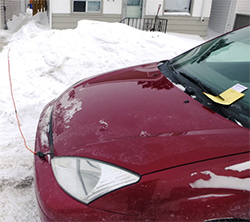 Understanding the Hazard
Why is the electrical cords bylaw in place?
For safety reasons as cords may present a tripping hazard to pedestrians or become caught/pulled during plowing operations – on the sidewalk, street or property.
Where cords are left, they can impede plowing operations.
Is the electrical cords bylaw new?
No, the Streets By-law was enacted in 1977, and the provision relating to electrical cords was last amended in 1982.
This was enforced by Streets Constables from The City's Public Works department. The Winnipeg Parking Authority was authorized in 2012 to issue offence notices for this violation as the Parking Authority's number of enforcement officers allows for more timely enforcement.
Place or leave unattended electrical wire, cord or cable on or across City street
Bylaw 86/2016— Section 23
No vehicle parked on a street may be connected to an electrical cord or wire that crosses the edge of the street.
November - Re-metering at a Paystation
Effective September 1st, 2016, re-metering for an additional 30 minutes will be permitted under the Winnipeg Parking By-Law 86/2016. When paid parking applies to a parking space, a vehicle may be parked in that space for up to 30 extra minutes as long as the fee for parking in that space during that extra time has been paid.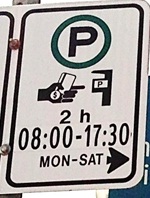 During any period throughout which a parking time limit applies to a parking space, no vehicle may be parked more than once per day on the same side of the block that includes that space.
After the purchased maximum has expired, a maximum of an extra 30 minutes may be purchased.
2 Hour Meter Permit holders may also purchase the extra 30 minutes through an alternate payment method as the extension is not included in the monthly permit cost.
View the Common Violations.
October - Temporary No Stopping
Temporary No stops Signs are often placed around the city for various reasons including:
Construction
Street Cleaning
Special Events e.g. Marathons, Parades, Street Festivals and Filming
Understanding how to read the signs can prevent your vehicle from being ticketed and possibly towed.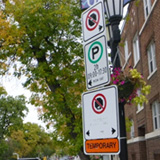 This sign does not specify days of the week or a specified time. Therefore, it would be active any day of the week and any time of day until the street work or event is over AND the signs are no longer there.
This sign indicates a specific start day and time as well as an end day and time when stopping is not allowed. Using this sign as an example, vehicles could not stop in the area starting Friday at 08:00 and ending Sunday 05:00, due to a special event. Stopping during this time can result in a ticket and possible tow.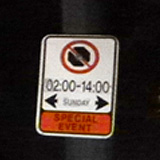 Other signs specify a time and a date when stopping is not permitted, for example 02:00-14:00 Sunday.
Vehicles stopped in Temporary No Stops reduce street work and construction efficiency, can block emergency vehicles from attending to an event and create safety hazards for event participants.
September - School Zone Safety and Parking at Crosswallks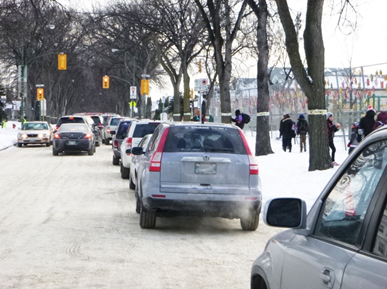 With children starting another school year, there will be increased pedestrian and vehicle traffic on the residential streets surrounding schools. Please be aware of the following safety concerns and parking violations in place to ensure the safety of all City of Winnipeg citizens.
Illegally parked vehicles during school pick up and drop offs can:
Reduce the line of sight making it difficult for drivers, parents and children to see oncoming traffic
Create safety hazards for children
Cause obstructions and delays to regular traffic flow
Prevent access for emergency vehicles and transit/school buses
Some "No Stop" signs are placed in areas specifically where Transit and school buses are required to turn. Parking in these areas greatly reduce the turn radius for the buses and reduce visibility for drivers and pedestrians.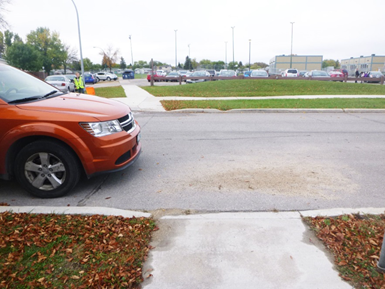 A crosswalk is any City-maintained sidewalk that meets a street. The "approach" side of the sidewalk is when you are coming up to the sidewalk (the sidewalk would be at the front of your vehicle). You must leave 3 meters (approximately 10 feet) between the front bumper of your vehicle and the edge of the sidewalk to ensure the safety of pedestrians. Parking on or within 3 meters of an approach of a marked or unmarked crosswalk is in contravention of Winnipeg Parking By-law 86/2016.
Illegally parked vehicles are subject to ticketing and towing.
Information on these and other violations can be found on our Common Violations Page.
August - Reading and Understanding Parking Signs
City of Winnipeg parking signs are listed in level of severity or priority from top to bottom. When parking, be sure to read the signs carefully from the top down, paying close attention to the days and times on the signs.
Remember if there are no days or times listed then the restrictions on the signs are 24 hours a day, 7 days a week.
Example # 1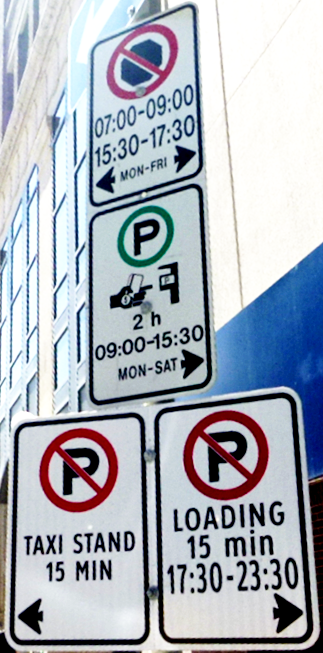 In the sign to the right AM (07:00-09:00) and PM (15:30-17:30) Rush Hour times are priority and No Stopping is allowed between those times Mon-Fri. Vehicles that stop in a Rush Hour zone during rush hour will be ticketed and towed.
There is 2hr Paid Parking between 09:00-15:30 Mon-Sat to the right of the sign (as indicated by the arrow on the paid parking sign)
After 17:30, the Paid Parking area is a Loading Zone until 23:30. Vehicles are allowed to stop in that area between those posted times for up to 15 minutes. Since there are no days of the week are specified this Loading Zone would be active any day of the week.
To the left of the Paid Parking and Loading Zone is a 24/7 Taxi Stand. Only Taxicabs may stop here for up to 15 minutes to pick up and drop off their fares.
Example # 2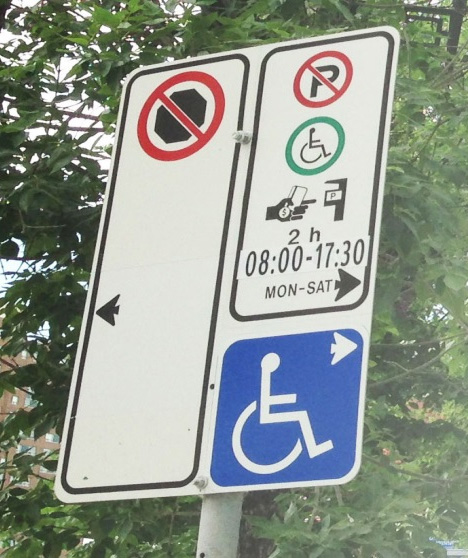 The stop sign within the red circle backslash symbol indicates that no stopping is allowed in the zone to the right of the sign.
The green circle and blue accessible sign symbolizes that a valid disability permit is required to be displayed in addition to payment, when in the zone to the right. More information is available on our Parking for Persons with Disabilities page.
About the program

The Park Smart communication program was created in 2012 as part of growing understanding enforcement alone did not change behavior or improve compliance. With the purpose of promoting safety, improved traffic flow and easy accessibility for emergency vehicles, The Winnipeg Parking Authority developed a simple low cost program built around communication, education and safety.
The strategy became "educate first." In partnership with the Winnipeg Fire Paramedic Service and the Winnipeg Police service, we began attending many different events throughout the City at various time of the year to illustrate "why" parking illegally may create problems and concerns. Since the inception of the program in 2012 Winnipeg Parking Authority has distributed over 20,000 brochures to the public.
Park Smart overview
Park Smart brochures