The Parking Store, located at 495 Portage Ave, is closed to members of the public until further notice. All services are available online or by contacting 311.
Complimentary one-hour parking and temporary loading zones ended
One-hour complimentary parking offered at all metered locations in Winnipeg from Monday to Friday has ended effective December 31, 2021. Temporary 15-minute loading zones that were established around Downtown and the Exchange District have also ended effective December 31, 2021.
Two-hour complimentary parking will continue to be available on Saturdays for on-street paid parking locations. There is no requirement to pay for on-street parking on Sundays or Statutory Holidays. More information is available at The Parking Store – Metered Payment Methods.
Le Magasin de la Direction du stationnement, au 495, avenue Portage, est fermé au public jusqu'à nouvel ordre. Pour accéder à nos services, allez en ligne ou communiquez avec le 311.
Le stationnement gratuit de une heure et les zones de chargement temporaires ne sont désormais plus offerts
L'offre de une heure de stationnement gratuit, du lundi au vendredi, dans toutes les places minutées de Winnipeg, n'est plus valable à partir du 31 décembre 2021. Les zones de chargement temporaires de 15 minutes qui étaient établies autour du centre-ville et du quartier de la Bourse ne sont également plus offertes à compter du 31 décembre 2021.
On continuera d'offrir deux heures de stationnement gratuit les samedis dans les places payantes sur rue. Il n'est pas nécessaire de payer pour stationner dans la rue le dimanche et les jours fériés. Des renseignements supplémentaires sont offerts à Magasin de la Direction du stationnement – Méthodes de paiement aux parcomètres.
Veterans Parking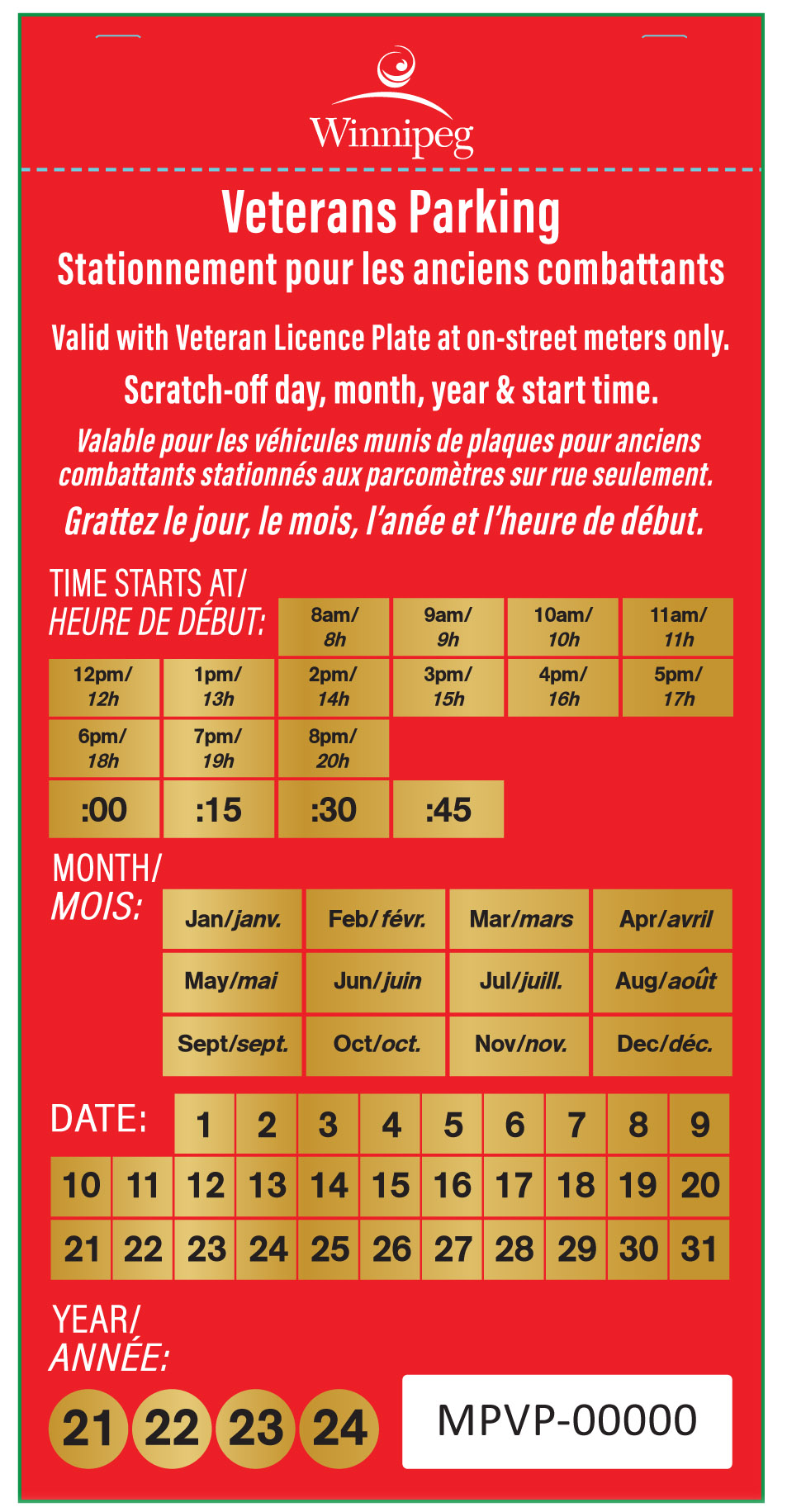 On October 24, 2012 Winnipeg City Council approved a report recommending preferential parking for holders of Veteran Licence plates.
Vehicles bearing Veteran Licence plates will be entitled to complimentary parking at City of Winnipeg parking meters on the following days:
April 9th - the Anniversary of the Battle of Vimy Ridge
June 6th - the Anniversary of D-Day
Additionally, each year, starting January 1st, registered owners of vehicles with Veteran Licence Plates will be entitled to receive a book of scratch meter passes which will provide up to 20 hours of complimentary parking at City of Winnipeg on-street parking meters.
In order to receive the book of scratch meter passes the following documentation will be required:
Licence; and
Registration of Veteran Plate
There is a limit of one book per veteran. Scratch meter passes may be picked up at The Parking Store located at 495 Portage Avenue during normal business hours.
November 11
While on-street parking is already complimentary on Remembrance Day, the Winnipeg Parking Authority will now also be offering complimentary parking in the Millennium Library parking facility to vehicles bearing Veteran Licence Plates. Connected to the Convention Centre through the Skywalk from City Place, the facility offers an additional option for veterans attending the ceremony at the Convention Centre.
Last update: June 21, 2021