If you have received a notice from the City's contracted collection agent, Gatestone & Co. Inc., advising you of an outstanding account, you may make payment in accordance with the instructions provided. Letters are sent by the collection agent, acting on behalf of the City, to assist in collecting outstanding tickets issued for bylaw offences. The City may proceed with collection action on any outstanding tickets that are no longer eligible for appeal.
Si vous avez reçu un avis de la part de l'agence de recouvrement sous contrat de la Ville, Gatestone & Co. Inc., vous indiquant que votre compte est en souffrance, vous pouvez faire le paiement requis selon les instructions fournies. Les lettres sont envoyées par l'agence de recouvrement au nom de la Ville pour aider à recouvrer le paiement des contraventions impayées émises pour des infractions aux règlements municipaux. La Ville peut prendre des mesures de recouvrement pour toute contravention impayée dont il n'est plus possible d'interjeter appel.
Veterans Parking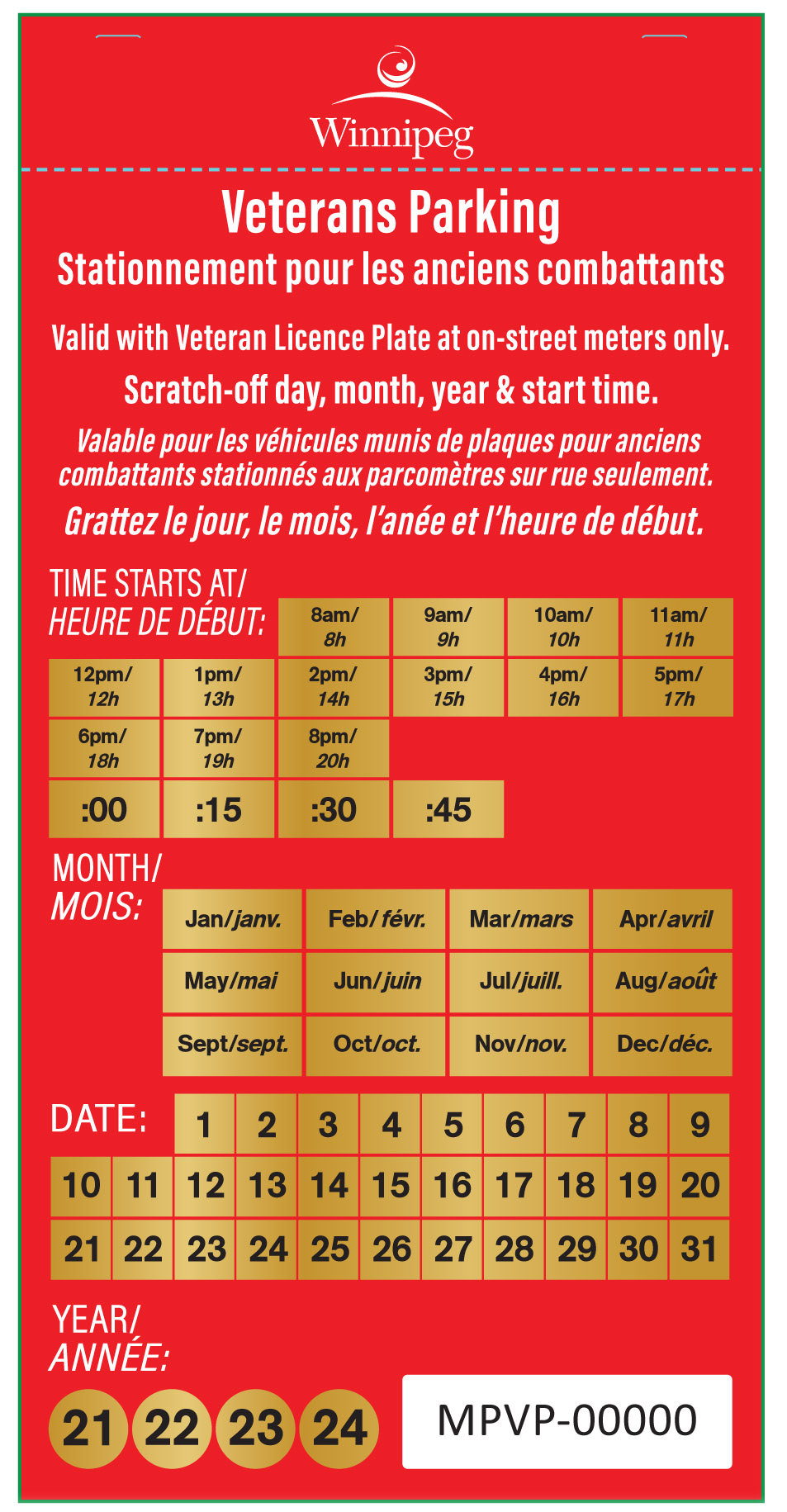 On October 24, 2012 Winnipeg City Council approved a report recommending preferential parking for holders of Veteran Licence plates.
Vehicles bearing Veteran Licence plates will be entitled to complimentary parking at City of Winnipeg parking meters on the following days:
April 9th - the Anniversary of the Battle of Vimy Ridge
June 6th - the Anniversary of D-Day
Additionally, each year, starting January 1st, registered owners of vehicles with Veteran Licence Plates will be entitled to receive a book of scratch meter passes which will provide up to 20 hours of complimentary parking at City of Winnipeg on-street parking meters.
In order to receive the book of scratch meter passes the following documentation will be required:
Licence; and
Registration of Veteran Plate
There is a limit of one book per veteran. Scratch meter passes may be picked up at The Parking Store located at 495 Portage Avenue during normal business hours.
November 11
While on-street parking is already complimentary on Remembrance Day, the Winnipeg Parking Authority will now also be offering complimentary parking in the Millennium Library parking facility to vehicles bearing Veteran Licence Plates. Connected to the Convention Centre through the Skywalk from City Place, the facility offers an additional option for veterans attending the ceremony at the Convention Centre.
Last update: February 10, 2023