If you received a notice from the Winnipeg Parking Authority informing you of outstanding parking tickets, please follow the instructions provided to make a payment. These notices have been sent under the City's new policy for vehicles whose owners have multiple unpaid parking tickets. Under this policy, vehicles that belong to anyone with three or more unpaid tickets that are past the appeal deadline will be towed if they are found committing another parking offence.
Si vous avez reçu un avis de la Direction du stationnement de Winnipeg vous informant que vous avez des contraventions de stationnement impayées, veuillez suivre les instructions fournies pour faire votre paiement. Ces avis ont été envoyés en vertu de la nouvelle politique de la Ville visant les véhicules dont les propriétaires ont plusieurs contraventions de stationnement impayées. En vertu de cette politique, on remorquera les véhicules des personnes qui ont au moins trois contraventions impayées dont la date limite d'appel est passée si ces personnes commettent une autre infraction au stationnement.
Veterans Parking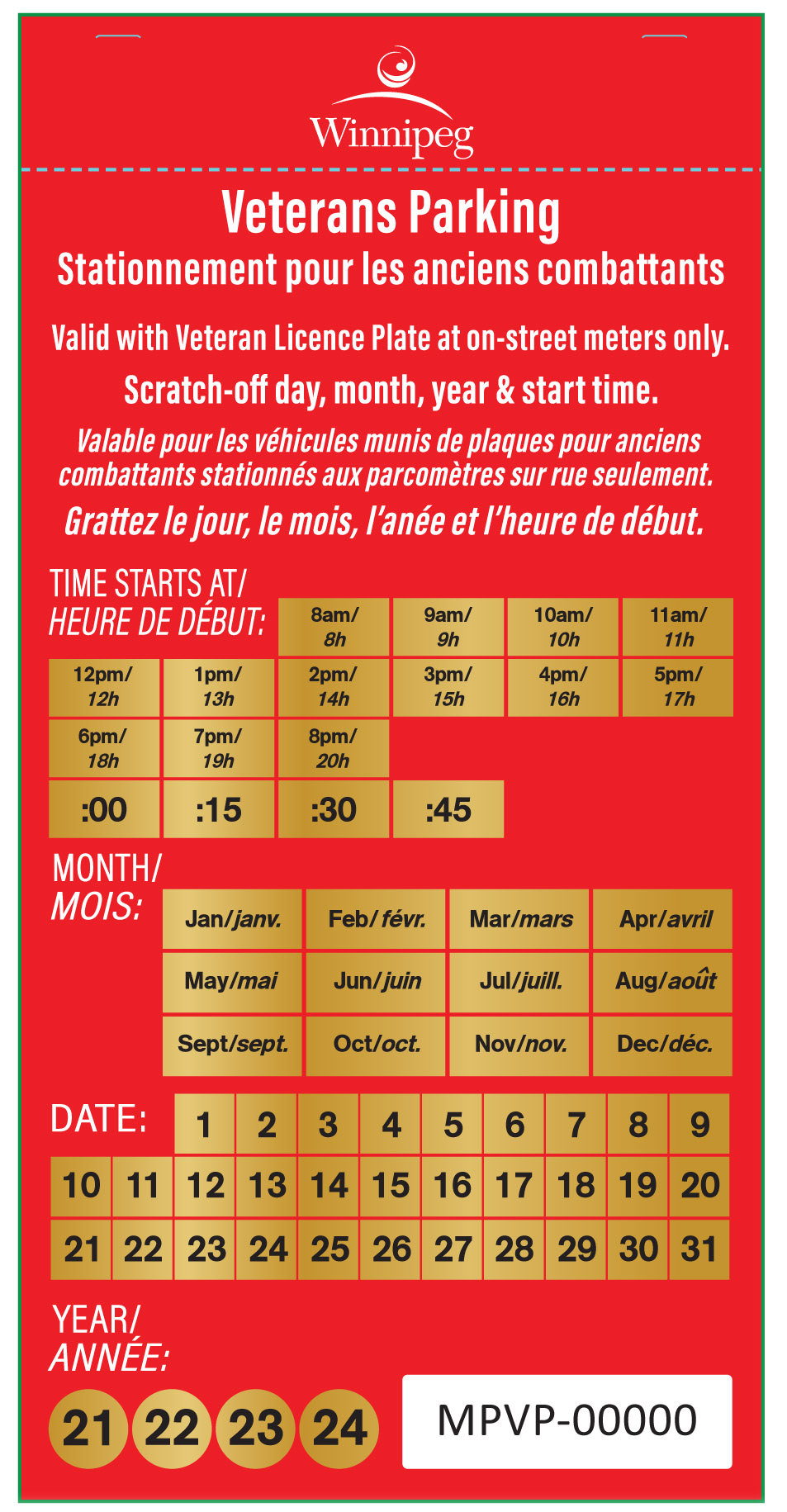 On October 24, 2012 Winnipeg City Council approved a report recommending preferential parking for holders of Veteran Licence plates.
Vehicles bearing Veteran Licence plates will be entitled to complimentary parking at City of Winnipeg parking meters on the following days:
April 9th - the Anniversary of the Battle of Vimy Ridge
June 6th - the Anniversary of D-Day
Additionally, each year, starting January 1st, registered owners of vehicles with Veteran Licence Plates will be entitled to receive a book of scratch meter passes which will provide up to 20 hours of complimentary parking at City of Winnipeg on-street parking meters.
In order to receive the book of scratch meter passes the following documentation will be required:
Licence; and
Registration of Veteran Plate
There is a limit of one book per veteran. Scratch meter passes may be picked up at The Parking Store located at 495 Portage Avenue during normal business hours.
November 11
While on-street parking is already complimentary on Remembrance Day, the Winnipeg Parking Authority will now also be offering complimentary parking in the Millennium Library parking facility to vehicles bearing Veteran Licence Plates. Connected to the Convention Centre through the Skywalk from City Place, the facility offers an additional option for veterans attending the ceremony at the Convention Centre.
Last update: February 10, 2023